News
Happy Holidays! - Three Months in the Top Ten & CD Release CONCERT!
Friday, December 7, 2007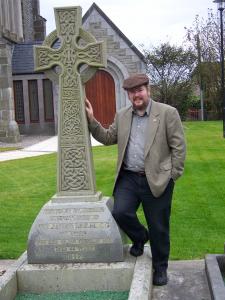 Dear Friends…
NEWS…
What an amazing fall it has been! From Galway, Ireland, to Ontario, Canada, and back to the US, the music has been flowing and the travels have been good!
The new CD, The Candle & The Flame, has been in the TOP TEN on the American Folk Charts for 3 months consecutive now! With several songs ranking on the charts, and every single song on the disc receiving airplay! We are even getting airtime in Canada, Europe, Australia, New Zealand, and Israel! Joe Jencks is going global!
This would not be possible with out the help of a good many people. Not the least of which is Jen Cass
Jen Cass.com
who has been taking on Radio Promotion for me. She has done a great job, and is deserving of much gratitude. The amazing musicians that helped make this record possible are also to be thanked with all certainty! Jon Carroll, Pat Wictor, Jim Robeson, Siobhan Quinn, Charlie Pilzer, Charlie Bernhardt, Bob Beach, and the Jencks Family.
Gratitude also goes to my new trio partners… Helena Nash and Karen Michelle "Pinkie" Bergmann, for their diligent work helping me get this music out into the world! Helena has been traveling with me for several months now and it is a genuine joy. Pinkie has performed a few times with me and will be a more active part of the ensemble in the coming year. Our first big tour will be three weeks in Ontario in February!
CD RELEASE CONCERT- DECEMBER10th…
We are performing a CD release concert for the new disc, The Candle & The Flame, at the Institute of Musical Traditions, in Rockville, MD on December 10th…
THIS MONDAY!!! 7:30 PM
link IMT
link Joe's Calendar
Institute of Musical Traditions
Saint Mark Presbyterian Church
10701 Old Georgetown Rd.
Rockville, MD 20852 USA
Phone: 301-754-3611
Musicians are traveling from SIX different states to participate in this concert. The cast of thousands for the concert includes several musician's from the recording sessions and some other friends as well: Jon Carroll (of Mary Chapin Carpenter and Starland Vocal Band fame
link Jon's site
) on Keyboards, Pat Wictor (from Brooklyn, NY
Pat's site
) on Slide Guitars, Karen Michelle Bergmann on Cello, Cheryl Prashker on percussion, and Siobhan Quinn (
link
) , Helena Nash and Charlie Bernhardt on Vocals.
PURCHASE THE CANDLE & THE FLAME…
If you cannot make it to the concert, PLEASE consider purchasing a copy or 10 of the NEW CD! They are great to give as gifts this time of year, and we can guarantee shipment before Christmas on any order received by December 20th. We will gladly gift-wrap and ship to the destination of your choice at no extra charge! You can order The Candle & The Flame from Turtle Bear Music directly by calling direct, 206-619-4104, or toll-free 877-485-2479, or by following this link to CD baby. com.
link
As the holiday is a busy time, we recommend you purchase directly from us, since we can guarantee shipping in a timely manner. But, whatever works for you is great! (Inquire about quantity discounts and holiday pricing on ALL Joe Jencks recordings, free shipping on all orders only from Turtle Bear Music… through December 31st!)
IN THE NEAR FUTURE…
The New Year looks to be bright, with a couple of commission projects in the works, touring with the trio (Jencks, Nash & Bergmann), several Festival dates in the summer, and more international travel! I fly to Portland in December to sing for my friends Heather and Benjy Wertheimer (Shantala) on their new Chanting CD (
Shantala's site
) and I will be touring briefly in the Seattle and Portland area in early January. Helena and I will be helping Pat Wictor out on his new recording project sometime in January. And, we will be touring in support of Helen's new CD, Painting A Moving Train.
Please visit the Calendar Page for a full listing of current events and tour dates!
link Joe's Calendar
THANKS again for all of your support this year… it has been GREAT!
Peace, Salaam, Shalom… and Happy Holidays!!!!
In Gratitude and Song…
•Joe Jencks
:-)
joe@joejencks.com
www.joejencks.com
206-619-4104