News
Returning to Ireland
Thursday, October 9, 2014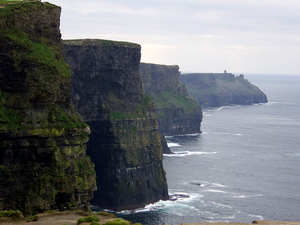 In February of 2007, I met a man named Tom Piggot. He was an effusive Irishman, who was quick with a laugh and made others feel more welcome in a place, just by his presence. A consummate storyteller (some of them were even true!), Tom was an eternal optimist who managed to see possibility and potential more than limitation and constraint. His can-do spirit was contagious.
When Tom found out I was also an Irish citizen, but that I had never been to Ireland, he swore an oath that I would set foot on Irish soil before the year was through. I was disbelieving. Money was tight, and I could not imagine how I would manage to travel abroad. But he said he would work with me to lead a tour in Ireland, and that we would make a go of it. He was persistent and not at all daunted by any stone of doubt I threw in the path. And at the end of October 2007, Tom and I co-led a tour in Ireland with 15 fans and friends. It was extraordinary.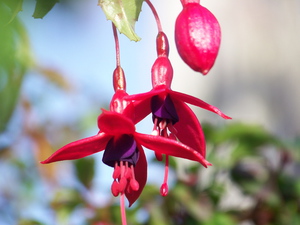 We went to places I had only ever dreamed I would see. I arrived a couple days early, and stayed a week after the official tour. Tom took it upon himself to welcome me, the prodigal son, back home to Irish soil. He helped me to understand a modern Ireland while keeping in touch with the ethereal, mystical, magical sense that Ireland evokes in so many of us. While he was never one to let the facts interfere with the truth, his perspective drove at a deeper meaning: Ireland endures. In spite of centuries of challenge and struggle, the Irish people thrive and celebrate life.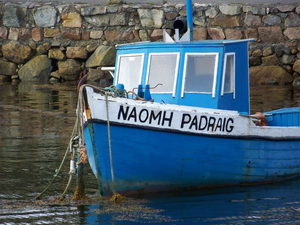 I owe Tom a great deal. He helped me connect with my heritage and myself. I had no idea I could miss a place I had never been to. But the first time I smelled smoke from a peat fire, something in my soul felt at home in a way I had never experienced. Humans are not understood by science to have genetic memory. But I swear something in my very DNA recognized the scent of Ireland. Peat smoke, thatch roofs, sea air, soda bread and GREAT bacon, moss and lichen on monuments that are thousands of years old, and of course the sound of tunes emanating from pubs, all caused me to take deep breaths and reflect on the ideas that Tom put in my head. Ireland endures, as do her daughters and sons, no matter where they may roam.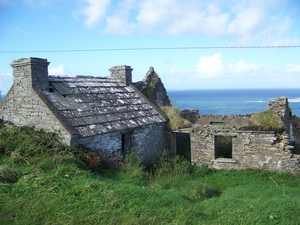 I never imagined that it would take me 8 years to return the enchanted island. But I am finally leading another tour to Ireland. Sadly, Tom has passed away in the intervening years, and I will miss my friend very much when I am there. None-the-less, there are always new friends to be made. And I am VERY excited to return to the beauty and splendor of Ireland and her people. I have so many tales from the last trip; I can't even begin to share. But I will share some of them on the tour bus, along with various stories and songs of Ireland's political, social, religious, and artistic history. Touring Ireland in the fall is great, because most of the big-bus tours are over. It's a gentle, intimate experience, and an easy pace so that we get to enjoy the experiences.
There will be only 20-21 slots on the tour bus/van, so if you are interested in seeing Ireland with me next fall, please let me know.
One of my favorite memories of Tom Piggot was when we were driving in his car, just the two of us. He drove me all over western Ireland, and finally to a spot on coast, overlooking the Aran Islands. He had been full of jokes and laughs for two days, but he became very quiet as we took in the natural splendor. When he finally spoke, he said, "I love this land. And I want the whole world to know that we are more than our struggles. We are alive! We are a people who love life!"
It will be my honor to carry on Tom's mission, helping more people to see the enduring vitality, charm, and wonder of Ireland.
Godspeed, my friend! And thank you for giving me the gift of my history.
Joe Jencks
10-8-14
Irish Tour Dates: October 3rd - 12th, 2015
For inquiries, please send an email titled: Irish Tour Inquiry - to joe@joejencks.com
:-)