News
In The Footsteps of Giants
Thursday, March 12, 2015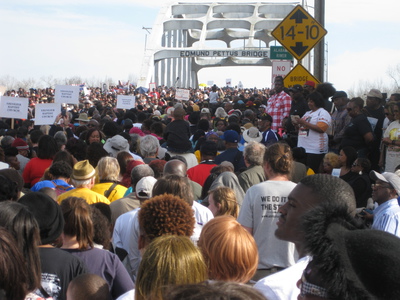 In The Footsteps of Giants
Speaking of hope, it has been an extraordinary week. We were just in Selma, Birmingham, Montgomery and the City of St. Jude. There were people from all over the world present for the 50th Anniversary and commemoration of the historic 1965 crossing of the Edmund Pettus Bridge in Selma, AL. On March 7th, 1965 a young (now Congressman) John Lewis led a march that was headed toward Montgomery in support of the Voting Rights Act. He was the first across the bridge, and was the first to be beaten and bludgeoned by the law enforcement officers waiting on the other side. It took three attempts for the determined masses to make it all the way to Montgomery, but on March 25th, the peaceful assembly, now more than 25,000 in number, finally arrived in the Alabama state capitol, and showed a nation what democracy looks like.
I grew up in the 70s and 80s. I saw footage of the Civil Rights movement in black and white reels and news clips. It seemed like ancient history to me. As did the first walk on the moon, for that matter. I grew up being told that the Civil Rights Movement was a thing of the past, and that the battle had been won, that equality had come to the land. It was a real shock when I began to realize growing up, that this was not true. I owe much of my awareness to one woman, Dorothy Paige Turner.
Dorothy was my kindergarten and 1st grade music teacher. She was and remains one of the most courageous women I have ever known. She taught all of us kids at Garrison Elementary School songs from the Civil Rights Movement. And we sang those songs like we believed. We sang those songs and drank in their lyrics of hope, freedom, fairness, justice, and transformation as if it were our birthright to do so. Dorothy took a diverse group of students and helped us see our similarities before anyone had taught us to see our differences. And I know she changed my life forever.
Later when I was a freshman in high school, Dorothy asked me to be in a new theater company she had founded called The Black Theater Ensemble. I was the only Caucasian member of the company. And that too was a gift. Dorothy continued where she had left off when I was a child and began again to teach my teenage self about the history of racism in this country, about the history of slavery, abolition, human rights, and the work of liberation and Civil Rights. She put me in some of the hardest situations I had ever been in, and stood by me all the way as she forged me into a more aware and awake person.
The thing is, Racism doesn't end in the abstract. Racism doesn't end as a result of intellectual constructs and mass rallies, public awareness campaigns, or the quoting of horrifying statistics. Racism ends because we get to know another person, and become friends with that person, we start to love that person and feel as if they are a part of our tribe, and then all-of-a-sudden the injustice we see hurting them, hurts us too! And we find we cannot stand idly by and watch our friends endure injustice and hatred.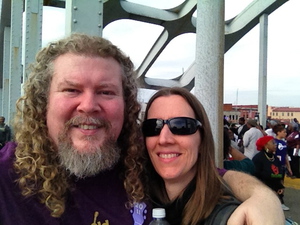 Whether we are Black, White, Latino/Latina, Asian, Indigenous, Indian, Mixed Race/other, we are all franchised into some system of racism. And the system that we are handed, is not our fault. But what we do with it, that IS our responsibility. And what Dorothy Paige Turner did in my life was to work for transformation of that system, one child at a time, one song at a time, one heart at a time. Dorothy taught us to see the character of the person first and anything else second. And she invited me into a performing ensemble that forever changed my life.
This past week, Kim & Reggie Harris, Brother Sun (myself, Pat & Greg), and many others were part of a Unitarian Universalist contingent present to witness and be a part of the commemorative events in Alabama. Starting with a conference called Marching in The Arc of Justice and concluding with our time in Selma and Montgomery, we had the extraordinary privilege of hearing stories and sharing in song and fellowship with numerous veterans of the Civil Rights Movement.
But I might not have crossed the bridge in Selma this week if it weren't for Dorothy's work 35 or 40 years ago. I might never have been attracted to the music that now resides at the center of my life had it not been for the courage of a young black music teacher from Arkansas who came north and carried the hope and the love and the courage of the Civil Rights movement with her. So as I walked across the Edmund Pettus Bridge, a bridge still (disturbingly) named after a Grand Dragon of the KKK, I carried Dorothy with me, and all of the members of the Black Theater Ensemble. I remembered playing a slave auctioneer and a slave master in those ensemble productions. I remembered crying after rehearsals at how unconscionable it was that these things actually happened. I remembered members of the ensemble surrounding me with love, assuring me that they understood I was only fulfilling a role I had been asked to play, for the sake of a piece of teaching-theater. And I recommitted myself on Sunday to doing what I can do in my life to challenge Racism in all of its forms.
The work of "the Civil Rights generation" must continue with us, and with our children and grandchildren. It was not a bloodless revolution, but the blood only ever seemed to flow in one direction. And as we now address the injustices of our contemporary society, I think we have a great deal to learn from our forbearers. "Black and white together" as the song says, along with Latino/Latina, Asian, Indigenous, Indian, Mixed Race and all other identities, we MUST overcome. We must overcome the callousness of a society that allows any of its children to be seen as disposable. We must overcome the indifference that allows people to see others as less than fully human. We must overcome the hatred that allows unarmed people of color to be shot and killed, with no punishments handed down to the perpetrators of those heinous acts.
We are all a part of a system that was handed to us, but that is not the measure of who we are. What we DO with that system is. And over the past week I saw tens of thousands of people committed to changing that system. It was one of the most hopeful things I have ever experienced in my life. Many of you saw coverage on the news, but I am here to tell you, whatever you saw could not capture the sheer awe inspired by seeing so many people show up and be counted among those who will work for positive change.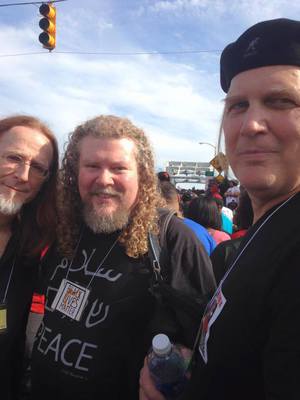 In addition to the AMAZING experience of crossing the bridge in Selma along with something like 70 thousand people, My wife Lynn and I had the unbelievable joy of spending nearly an hour and a half in private conversation with the wise and fiery Rev. Dr. C.T. Vivian, as we talked about the past, present, and future of civil rights globally. We spoke of Gandhi, Dr. King, James Lawson, and other agents of transformation, and Dr. Vivian shared with us in great detail about the day he was beaten and arrested. The day he told Sherriff Jim Clark, "Sherriff, you can turn your back on me, but you can't turn your back on FREEDOM!"
We got to hear the wickedly intelligent Rev. William Barber preach in his charismatic and passionate style. And listen to the ideas of a young activist named Opal Tometi, co-founder of the Black Lives Matter movement. The Rev. Mark Morrison Reed spoke eloquently and in concrete terms about how we can make positive change one loving relationship at a time. And the Reverends Hope & Janice Johnson, Gordon Gibson, and several others guided us through the week and were the creativity and passion behind an extraordinary gathering of activated UUs and allies from all over the US and Canada.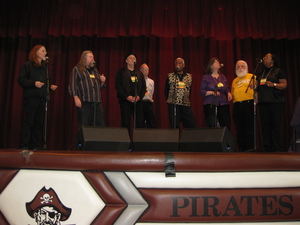 After several days of seminars and workshops, worship services and concerts in Birmingham where we sang with our dear friends Kim & Reggie Harris every day, we traveled to the historic City of St. Jude (Montgomery) where on March 24th, 1965 the marchers camped out the night before they headed to the capitol in support of the Voting Rights Act. And where a historic concert was held in support of the movement featuring: Harry Belafonte, Sammy Davis Jr., Pete Seeger, Joan Baez, Peter, Paul, & Mary, Tony Bennett, Nina Simone, and others. We sang the hymns and songs of the movement there, and then traveled to Selma to march with thousands upon thousands.
I have listened to and conversed with Bernice Johnson Reagon (The Freedom Singers, Sweet Honey In The Rock) about the movement. I have heard Betty Mae Fikes, Jimmy Collier, and others sing those songs. I have been a student of the Civil Rights movement my whole life thanks to Dorothy Paige Turner. But to walk in the footsteps of giants and feel their beckon call, to hear the echoes Rev. Dr. Martin Luther King's voice still reverberate in the streets of Selma and Montgomery, I was awe-struck. It was both joyful and solemn. It was a celebration of what has been accomplished as we in our seventh year as a nation with a president of mixed race ancestry. And it was a sobering acknowledgement that we have so far yet to go as another young, unarmed, black man was killed Saturday night in Madison, WI. And now two police officers have ben shot in Ferguson, MO. How do WE turn this around? How do we love our way through this?
Dr. King said, "The arc of the moral universe is long but it bends toward justice."
Opal Tometi said, "Justice is not an inevitability. We must work for it."
Both statements are true.
So how do we make a difference? How do we work for change in a system that seems so far beyond our influence? How do we move through guilt, hopelessness, frustration, and into effectiveness? We cannot make progress on this or any other difficult issue by using anger as our fuel. We must LOVE. The Buddha, Jesus, Gandhi, King, and so many others have spoken this truth again and again. I would phrase it this way:
Anger may be the spark that lights the fire, but the fuel of change must be LOVE.
One relationship at a time, may we take risks, make mistakes, and fail forward. May we learn from yesterday and today, and apply that knowledge toward a better tomorrow. And may we learn better how to love one another, every day.
In Solidarity and Song,
-Joe Jencks
3-12-15