News
Love In The Time of Covid
Tuesday, March 17, 2020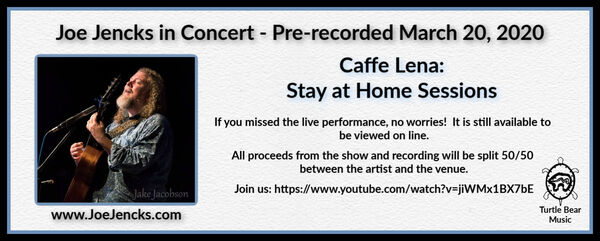 If you missed the Caffe Lena show you can access it here! Thanks for your support



In This Newsletter
Greetings and Updates
Ways to keep the music flowing & new CD info
Support for AFM Local 1000's Emergency Relief Fund
Adventures from Joe's Kitchen
Dear Friends in Music,
I believe there is an ancient Taoist saying, a blessing or a curse depending on the context: May you live in interesting times.
We do.
I hope all of you are in safe places, in regular contact with your loved ones, and taking the appropriate precautions to stay well and healthy as can be, in all ways: Body, Mind, Spirit, Heart and Soul. It will be easy in the coming weeks to feel isolated and alone. Please remember, you are not alone. Please reach out to friends, family, neighbors, acquaintances, co-workers, and even your touring musician friends! If it feels appropriate, do so under the pretext of making sure that they are OK. But know in your heart, that it is also part of making sure you are OK too.
I have been contacted by MANY people I know from 21 years on the road. All of whom were worried about what happens to me as so many concerts are cancelled. My first answer is that I chose the life of an itinerant bard, knowing that it was an ascetic path. Knowing that it was inherently a life of austerity, compared to many other professions. But in truth, as more and more concerts and events are being postponed, rescheduled for 2021, or just outright cancelled, I am becoming more aware of how precarious this could be for so many people.
Nonetheless, I am committed to keep the music flowing in as many ways as I am able. Because art and music are part of how we mitigate the feeling of isolation, and continue to be culturally connected. And that will keep us pointed in a good direction!
Today at Noon ET (11 CT/ 10 MTN/ 9 AM PT), a special St Patrick's Day broadcast of my radio show, My Highway Home will air on www.folkmusicnotebook.com, featuring stories from my travels in Ireland, and music from artists I have met there over the years.
Friday, March 20th at 8:00 PM ET (5:00 PM PT) I will be giving a Live Streaming Concert from the historic Folk institution Caffe Lena in Saratoga Springs, NY. You can link in for free from my website www.joejencks.com, from the Caffe Lena website www.caffelena.org or through the Facebook event and watch a Joe Jencks concert from the comfort and safety of wherever you are. A donation link will be set up and all donation s will be split 50/50 with Caffe Lena. This will help me deal with dozens of lost performances, and it will also help Caffe Lena keep the doors open until things get better. And they WILL get better.
If you also want to keep supporting my work as a musician, and that of many other touring artists but you are not sure how to do so, here are a few other options:
I am ALWAYS happy to take on a songwriting or composing commission. For yourself or as a gift to a family member, for your organization, for your church or synagogue, I am delighted to create new music or arrangements in your honor. Just send an email to me at: joe@joejencks.com or reply to this newsletter.
I will be offering more online content in the coming weeks, new songs, some videos of performances, and more frequent essays on my website www.joejencks.com. Please feel free to tune in, invite friends, share on social media
I will gratefully accept any support you can offer via PayPal. From a few dollars to 100 dollars, to as much as you can share to help me keep serving the needs of building community through music and art. Send Virtual Tips via PayPal to: joejencks@hotmail.com
On April 1st, I will launch a Crowd Funding campaign for my new CD. I have a slew of new songs that I am eager to share. And many of you have been asking when you would be able to get specific songs on CD or for download. The answer is, this year! And since I now have more time than expected, I will dive into recording this spring! Stay tuned for an April 1st newsletter with more information. No fooling.
The American Federation of Musicians, AFM Local 1000 has been my Musician's Union Local for 20+ years. And they are a great organization. Chartered specifically to serve the independent touring artists in the Folk and Americana/Roots communities, AFL Local 1000 has been a stalwart ally of the working road musicians for nearly 30 years. We have an Emergency Relief Fund (ERF) that helps provide for our members in times of need. 100% of all donations to the AFM Local 1000 ERF will go to working musicians in need, during this time of uncertainty. Please consider a donation of any size to AFM Local 1000's Emergency Relief Fund. Representing over 500 musical artists throughout the US and Canada, I guarantee some of your favorite touring musicians are members!
https://www.local1000.org/product/emergency-relief-fund
Please check my website regularly for re-scheduled concerts and new events: www.joejencks.com
I know this feels like a really scary time for so many people. Whether it is because we are worried about illness for ourselves or our loved ones, whether we are afraid of losing our jobs, or our retirement in the stock market. Where we are concerned about how to deal with our needs emotionally or physically as we all self-quarantine for safe keeping, WE ARE NOT ALONE! We are in this together. And when we keep helping each other even in the smallest of ways, we are reminded of that fact. We are in truth and in deed part of so many larger communities. And beyond the logistical challenges and fears, we can always return to a place of loving kindness. We can return to a place of centeredness by taking a deep breath and asking ourselves: How may I be of service to someone today?
Do an extra kindness for your dog or cat or pet. Write a letter to a friend, colleague, or another person you know who would revel in an old-fashioned piece of hand-written correspondence. Pick up the phone and call someone with whom you have not spoken in far too long. If you are running to the store, ask a neighbor if they need anything? Try cooking new things. Share pictures of your creations online. Pull out some construction paper and glue and go back to 2nd grade for 1/2 an hour. See what happens? Been wanting to wrote that story or novel, go for it. Now is the time!
Be safe, be well, and know that you are part of a larger community of people who care about you! Count me among them.
In Gratitude and Song,
Joe Jencks
3-17-20
PS. Regarding culinary adventures, MANY of you know I LOVE TO COOK! So… I will also start sharing some Adventures from Joe's Kitchen. Here is the story of how a little bit of effort created 3 days of joy!
I baked a small pork roast on Friday. I rubbed a little lime juice on the roast first. Then I used a dry rub of chili powder, garlic powder, cumin, sea salt, and black pepper. I lined the bottom of a small roasting pan with about 6 medium sized potatoes cut into round slices about 1/4 to 1/3 of an inch thick. It turned out to be about three layers of potato slices in my small roaster. But that depends on the size of the roaster and the size of the roast. You may need more potatoes. Anyway, I placed the roast on the spuds, and poured about 1/2 a cup of red wine and about 1 cup of vegetable broth in the bottom of the roaster. Covered and cooked the thing for like 2.5 hours at about 375. Note: I applied the lime juice and dry rub, after I put the roast atop the potatoes, in the roaster. FYI. I don't want you to have lime juice all over your counter.
On the first night, we just had some really marvelous carnitas and potatoes that were as yummy as any I have ever had. I sautéed some asparagus and that was dinner!
On Saturday, I took the leftover carnitas, and pulled it apart further with my fingers and put it in a skillet with a little more chili powder, a little more garlic and a little more salt. I sautéed the carnitas until it got a little crispy. Meanwhile, I was making a slaw of jicama, red cabbage, and thinly sliced raw white onion. The dressing was mayo, Sambal Olek (Thai) Chili Sauce, and a dash of salt, lime juice, and sugar. I also warmed corn tortillas in a pan with a little olive oil (one at a time in a small omelet pan). And grated some of my all-time favorite cheese in the whole world: Washing State's own Cougar Gold!
So… Street Tacos! Carnitas, corn tortillas, jicama slaw, and a little swanky cheese for garnish. YUM!!!
On Sunday morning, I took those leftover potatoes from Friday night, and I cooked them in a non-stick skillet for about 30 minutes on medium low heat. I wanted to crisp them up slowly. And turn them every so often. They were full of all of that amazing merged flavor of the broth and wine and carnitas. And they did crisp up nicely! And with a few shreds of the carnitas left in the spuds, it was simply the best hash ever! WOW. Served with a Cougar Gold cheese omelet and some fruit salad. YUM again!
Bon appetite!
I cook Vegetarian food too. So, those of you who are not meat eaters – stay tuned. I will throw you a carrot too! - JJ

:-)