Friday, November 6, 2020
7:00 PM
Ft. Myers, FL
Joe Jencks Live Stream Concert
Ft. Myers, FL
Purchase tickets onlineClick here for Joe's Livestream ***
website: www.americanacma.org/event/joe-jencks-in-concert-david-martin-opens/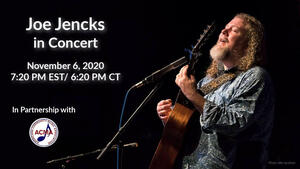 Join Joe for a Live Stream Event.

The Opening act will be David Martin - you don't want to miss! - the link to his performance can be found on the ACMA website.

Followed by Joe at 7:20 live on YouTube at : https://youtu.be/F4qaIH4adf4

Join us for a great evening of music!



or for Firefox users: https://www.paypal.me/JoeJencksMusic

export this event to my calendar